Never Give Up
Check your eligibility
Fast check - won't affect your credit rating.
Free Shipping
Free Shipping on all UK orders over £150
No Quibble returns policy
Shipping
Shipping times vary according to the artwork that you are buying. Many of our mounted pieces & sculptures are available for despatch within 2-3 days from order, artwork is generally shipped via overnight courier arriving the next day in the UK. Overseas deliveries will take slightly longer.
Framed artwork can take up to three weeks to be delivered as some pieces are framed to order.
We will always try to accomodate urgent delivery requests or help with delivery on a specific day - please get in touch with the gallery team to talk through your requirements.
Higher value & Original artwork will be shipped by private courier, this is organised on an individual basis, please call for further information.
Further information on the pricing for overseas deliveries can be found here. UK deliveries over £150 are delivered without charge.
Free 30 day Insurance
We are pleased to be able to offer all customers purchasing with The Rose Gallery a complimentary 30 day insurance cover for their artwork. We work in partnership with Ulitmart, specialist fine art insurance brokers, to provide cover on your new artwork. Ultimart provide an 'all risks' policy that covers all aspects of fine art from damage in transit to value appreciation. Customers can sign up for free 30 day cover via www.ultimartinsurance.co.uk following the grey link to 'Activate your Free 30 day over here'. Please contact the gallery team for further help & information.
Details
WIN A FIAT 500!
Buy any piece of Doug Hyde's artwork between 5th and 21st August and you will be entered into our prize draw to win one of the world's most iconic cars and star of Doug Hyde's Great Escape!
*Terms and Conditions apply. Ask our team for more details.
FREE BISCUITEERS BISCUITS WITH EVERY DOUG HYDE PURCHASE
£50 off withode NEWYEAR5
Limited Edition Lenticular Artwork signed and numbered by the artist  
Framed in substantial black wooden frame
Complete with Certificate of Authenticity
0% interest free finance available
30 Days Free Insurance 
Free UK Delivery
Gift wrap optional
Call the Gallery on 01604 713743 or email info@therosegallery.co.uk for further information
New customers receive 5% off their first order with code ROSE05

Home Consultations available in the Northamptonshire area
Specification
Medium

Limited Edition

Sizing

Artwork Size: 20 x 20 inches

Framed size: 25 x 25 inches

Edition Size

195
Doug Hyde
Doug Hyde is a British contemporary artist, born in Bristol in 1972. In 2005, he was named as the UK's biggest-selling artist, and BBC News described him as the UK's most popular living artist. His work has the quality of appealing to young and old alike.
His work features adorable childlike characters that inhabit a world of their own. They are warm, funny and uplifting. Doug's style is instantly recognisable, conveying a wealth of feeling through a deceptively simple style. The engaging smile of his bubble-headed characters has become something of a signature for Doug.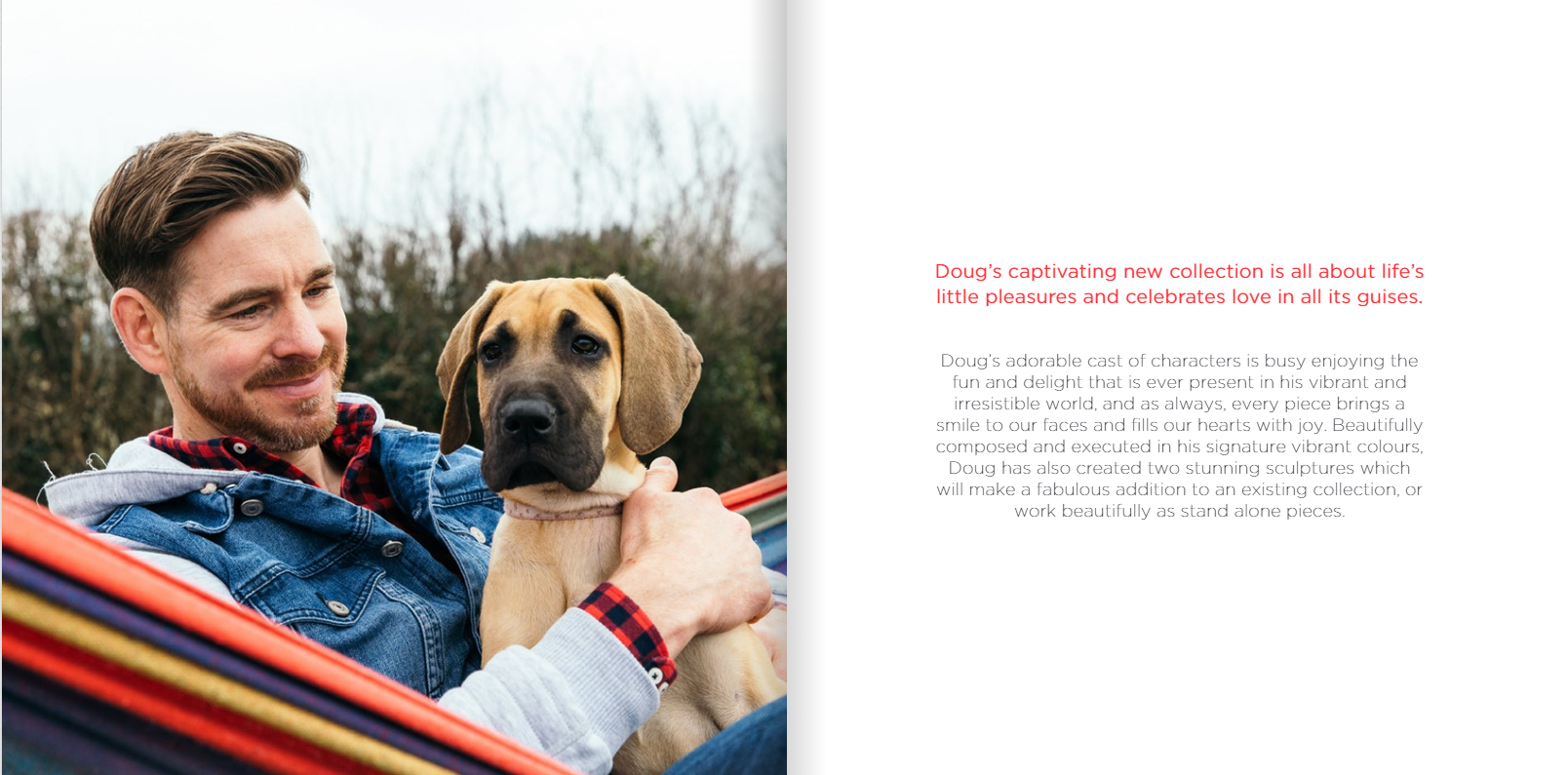 Doug Hyde started by creating paintings for his family in his spare time, branching out from there, initially reluctant to sell his work. His limited edition prints are hugely popular. They're signed by Doug himself, and are available mounted or framed, using the publisher's bespoke mouldings.
When he feels inspiration, Doug grabs whatever is to hand to sketch out an idea. As a result, his studio is filled with napkins, bits of newspaper and assorted cards with unfinished drawings on them.
On finding fame through art, Doug said. 'What a fantastic feeling it is to know that people all over the world enjoy my artwork as I do. Satisfaction doesn't get better than that.'
Delivery
| | UK | Europe inc NI | North America | Rest of the World |
| --- | --- | --- | --- | --- |
| Orders below £150 | £8.95 | £24.95 | £38.95 | £49.95 |
| Orders between £150 & £650 | Free of charge | £42.95 | £54.95 | £84.95 |
| Orders between £650 & £1,500 | Free of charge | £89.95 | £114.95 | £135.95 |
| Orders over £1,500 | Free of charge | By separate arrangement | By separate arrangement | By separate arrangement |
Click here for more information regarding delivery.