Heatwave
$788.00
Check your eligibility
Fast check - won't affect your credit rating.
Heatwave by artist Jack Vettriano captures a beautiful raven haired woman as she tries to cool down in a heatwave, the fridge is open in desperation as she holds a glass bottle to her forehead in an attempt to find relief from the ever persistent heat. Vettriano works in an ambiguous narrative that is left open to the viewer's interpretation, allowing the observer to craft their own opinion on the captured moment.
Artwork Information
Framed or Mounted Limited Edition Artwork
Complete with Certificate of Authenticity
Mounted size 12 by 15 inches approximately

Framed size 24 by 27 inches approximately
Buy with Confidence
Home consultations are available within Northants area

 

Click Here

 

to find out more
Delivered with care, we only use trusted delivery partners,

 

Get in touch

 

to find out more
Free 30 day insurance
No quibble returns policy
We are rated

 

Excellent

 

on Trustpilot
Giving you More
0% Interest free finance available,

 

Click Here

 

to find out more
Gift wrap available 

Free UK Delivery available on all orders over £150

Have a question? Check our FAQ's
Prefer to speak to a person?
Our experienced Gallery team are available to answer your questions and help you find exactly what you are looking for. To Get in touch you can call us on 01604 713743, email info@therosegallery.co.uk
Medium

Limited Edition Artwork

Sizing

Artwork size 12 by 15 inches

Framed size 24 by 27 inches

Please note all sizes are approximate

Edition Size

175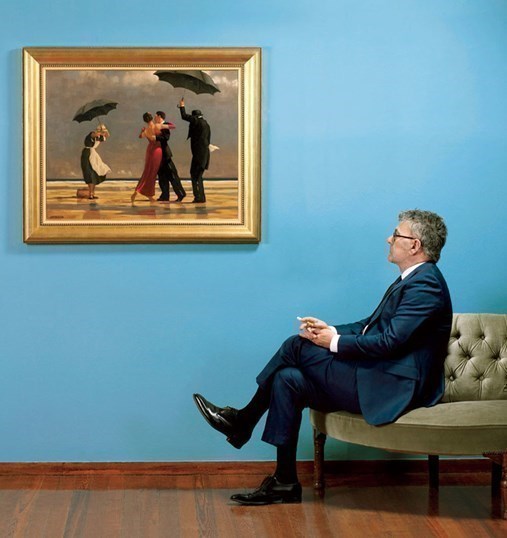 Jack Vettriano took up art as a hobby during his 20s, his earliest pieces were copies of artworks from impressionist artists. 1988 was the first time Jack displayed his paintings, submitting two canvases to the Royal Scottish Academy annual show. These two paintings sold on the first day and from then on galleries wanted his work and so did the population. His success was unfortunately the breakdown of his first marriage, after which he made the move to Edinburgh and went on to have a string of successful exhibitions all over the world. With astonishing sales of his artwork, he also gained titles of an OBE, earned an honorary degree from St Andrew's University, and gained private collectors who range from Robbie Coltrane to Hollywood superstar Jack Nicholson. His latest works depict the qualities that have made Vettriano so popular. His nostalgic subject matter, enigmatic narrative detail, and use of colour. They are strange yet pleasurable, giving the viewer a sensation of having stepped into the opening scene of a film. Jack Vettriano is the most successful and popular Scottish artist in history and is known as 'The People's Painter'.
| | UK | Europe inc NI | North America | Rest of the World |
| --- | --- | --- | --- | --- |
| Orders below £150 | £8.95 | £24.95 | £38.95 | £49.95 |
| Orders between £150 & £650 | Free of charge | £42.95 | £54.95 | £84.95 |
| Orders between £650 & £1,500 | Free of charge | £89.95 | £114.95 | £135.95 |
| Orders over £1,500 | Free of charge | By separate arrangement | By separate arrangement | By separate arrangement |
The majority of UK orders placed on the website or over the phone are despatched using a next day courier service within seven days of receipt of order. (Not including bespoke orders such as framing). If you would prefer to place your order by telephone please call us on 01604 713743 and we will be happy to help.
In the unlikely event that we are not able to fulfil your order within seven days we will contact you to confirm a lead time on receipt of your order.
Click here for more information regarding delivery.