Trilogy of Wonder III
$864.00
Check your eligibility
Fast check - won't affect your credit rating.
Trilogy of Wonder III by artist Danielle O'connor Akiyama is an abstract landscape scene, with an oriental style this piece features a mountainscape with cherry tree in full blossom, at the foot of an impressive waterfall. Danielle's work embraces vivid colours with bold strokes, her work is inspired by tranquil landscapes translated in to her signature abstract style and is prized among art collectors and investors.
Artwork Information
Limited Edition Artwork

Glazed box canvas, signed and numbered by the artist

Complete with Certificate of Authenticity

Limited 

Edition size 150
Artwork size 18 by 36 inches approximately
Framed size 23 by 41 inches approximately
FREE Tim Fowler Limited Edition Artwork worth £250*
*Tim Fowler Limited Edition gift applicable on orders for artwork by the artist Danielle O'Connor Akiyama. The offer is applicable on orders placed for delivery within the UK only, exclusions may apply. This offer is available on orders where the print has been automatically added to your basket prior to the order being placed before 31/12/2023 and is subject to change.
Buy with Confidence
Home consultations are available within Northants area

 

Click Here

 

to find out more
Delivered with care, we only use trusted delivery partners,

 

Get in touch

 

to find out more
Free 30 day insurance
No quibble returns policy
We are rated

 

Excellent

 

on Trustpilot
Giving you More
0% Interest free finance available,

 

Click Here

 

to find out more
Gift wrap available 

Free UK Delivery available on all orders over £150

Have a question? Check our FAQ's
Prefer to speak to a person?
Our experienced Gallery team are available to answer your questions and help you find exactly what you are looking for. To Get in touch you can call us on 01604 713743, email info@therosegallery.co.uk
Medium

Limited Edition Glazed Box Canvas

Sizing

Artwork size 18 by 36 inches

Framed size 23 by 41 inches

Please note all sizes are approximate

Edition Size

150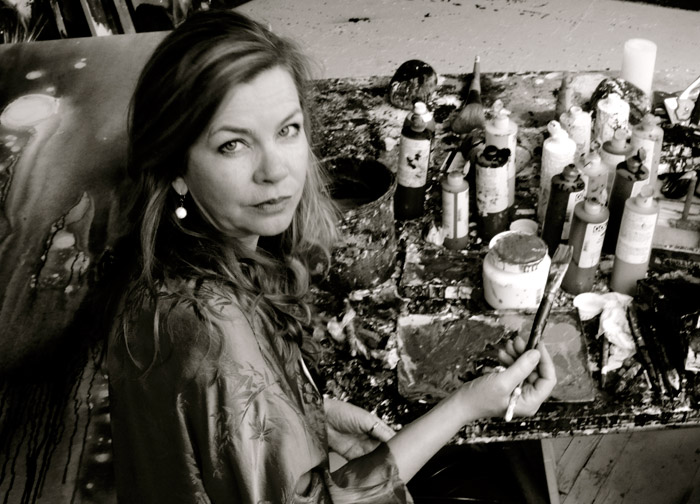 Formerly an Art Therapist, Canadian artist Danielle O'Connor Akiyama transferred her understandings from art therapy and transcended them into her luminous "sanctuaries for the soul". Floral paintings display a variety of media where the surfaces of her paintings are reminders of her extensive travels- with a distinctive eastern and western style, they are manifestations of magic, tales of love and abstractions of the heart. Studying sumi-e Japanese brush painting enabled Akiyama to follow her loose and impressionistic style which are full of life, energy and colour.
| | UK | Europe inc NI | North America | Rest of the World |
| --- | --- | --- | --- | --- |
| Orders below £150 | £8.95 | £24.95 | £38.95 | £49.95 |
| Orders between £150 & £650 | Free of charge | £42.95 | £54.95 | £84.95 |
| Orders between £650 & £1,500 | Free of charge | £89.95 | £114.95 | £135.95 |
| Orders over £1,500 | Free of charge | By separate arrangement | By separate arrangement | By separate arrangement |
The majority of UK orders placed on the website or over the phone are despatched using a next day courier service within seven days of receipt of order. (Not including bespoke orders such as framing). If you would prefer to place your order by telephone please call us on 01604 713743 and we will be happy to help.
In the unlikely event that we are not able to fulfil your order within seven days we will contact you to confirm a lead time on receipt of your order.
Click here for more information regarding delivery.