Spectrum
$622.00
Check your eligibility
Fast check - won't affect your credit rating.
Spectrum by artist Philip Gray is an atmospheric coastal scene, the Northern Lights dance in the sky across a rocky shoreline, purples and greens dance in the sky as the Aurora Borealis gleam in the night sky in an otherworldly display. Philip Gray is a highly regarded adventure artist - well known for travelling to the far away landscapes he captures with his paints - including underwater adventures to high on top of mountains.
Artwork Information
Framed Limited Edition Artwork
Complete with Certificate of Authenticity

Limited 

Edition size 195
Available to purchase as an unframed canvas bonded to board
Artwork size 32 by 16 inches approximately
Framed size 40 by 24 inches approximately
Framed in grey wooden moulding with white inner slip
FREE Tim Fowler Limited Edition Artwork worth £250*
*Tim Fowler Limited Edition gift applicable on orders for artwork by the artist Philip Gray. The offer is applicable on orders placed for delivery within the UK only, exclusions may apply. This offer is available on orders where the print has been automatically added to your basket prior to the order being placed before 31/12/2023 and is subject to change.
Buy with Confidence
Home consultations are available within Northants area

 

Click Here

 

to find out more
Delivered with care, we only use trusted delivery partners,

 

Get in touch

 

to find out more
Free 30 day insurance
No quibble returns policy
We are rated

 

Excellent

 

on Trustpilot
Giving you More
0% Interest free finance available,

 

Click Here

 

to find out more
Gift wrap available 

Free UK Delivery available on all orders over £150

Have a question? Check our FAQ's
Prefer to speak to a person?
Our experienced Gallery team are available to answer your questions and help you find exactly what you are looking for. To Get in touch you can call us on 01604 713743, email info@therosegallery.co.uk
Medium

Hand Finished Limited Edition Canvas on Board

Sizing

Artwork size 32 by 16 inches

Framed size 40 by 24 inches

Please note all sizes are approximate

Edition Size

195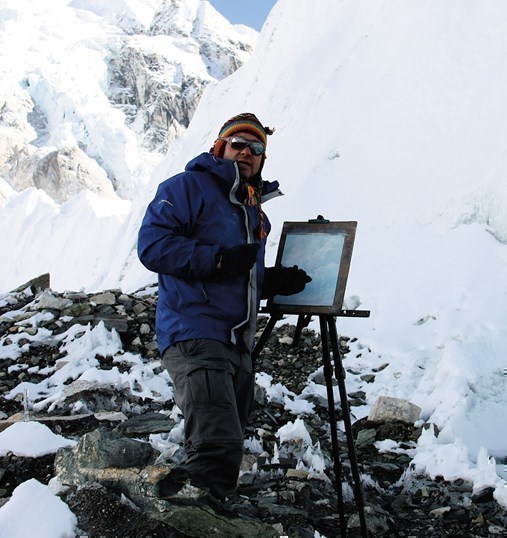 Philip Gray's passion for art is equalled only by his passion for exploration and discovery. His 'extreme art', painted in unexpected, often dangerous locations, has won him a unique reputation as an artist and adventurer; Everest base Camp, 60 feet beneath the surface of shark infested waters, the rainforest of Borneo, deep in the caves and atop the volcanoes of Iceland, …his expeditions are legendary, and his innovative artwork has won him a unique position in the international art world. Philip says: "I have a great love of the sea, born out of experiencing the joy and freedom of the ocean wave, above and below the surface. I spent 17 years as an Irish navy diver. I still feel that as I lean over the side of a ship heading towards a new destination and distant horizon that the ocean is speaking to me with a thousand words and a thousand visions." Philip was born in Cork, Ireland, in 1959. From the age of five he loved art, and one of his earliest memories is being tutored in figurative drawing by a family friend, Trevor Scott, the founder of the renowned College of Art and Design in Dublin. He believes this to be the first step towards his need to explore his creativity. He has since become one of Ireland's most celebrated living artists. His powerful Original Paintings, Pastels and Collectable Editions have won him an impressive range of awards, media coverage and celebrity collectors from Bill Clinton and George W Bush to Dolly Parton.
| | UK | Europe inc NI | North America | Rest of the World |
| --- | --- | --- | --- | --- |
| Orders below £150 | £8.95 | £24.95 | £38.95 | £49.95 |
| Orders between £150 & £650 | Free of charge | £42.95 | £54.95 | £84.95 |
| Orders between £650 & £1,500 | Free of charge | £89.95 | £114.95 | £135.95 |
| Orders over £1,500 | Free of charge | By separate arrangement | By separate arrangement | By separate arrangement |
The majority of UK orders placed on the website or over the phone are despatched using a next day courier service within seven days of receipt of order. (Not including bespoke orders such as framing). If you would prefer to place your order by telephone please call us on 01604 713743 and we will be happy to help.
In the unlikely event that we are not able to fulfil your order within seven days we will contact you to confirm a lead time on receipt of your order.
Click here for more information regarding delivery.