Early Evening Rendezvous
$831.00
Check your eligibility
Fast check - won't affect your credit rating.
Low in stock - Last chance to own this artwork
Early Evening Rendezvous by figurative artist Iain Faulkner is a masterpiece of realism, two elegantly dressed men stand by the side of vintage cars as they take in an vivid sunset. Iain masterfully captures stillness in his realistic scenes, conveying a sense of contemplation and inner reflection. His work is popular with interior designers and collectors alike.
Artwork Information
Mounted Limited Edition Artwork
Complete with Certificate of Authenticity
Printed on 315gsm cotton rag paper
Limited Edition size 150
Artwork size 59cm by 59cm approximately
Mounted size 81cm by 83cm approximately
Receive 5% off first order with code ROSE05

Buy with Confidence
Home consultations are available within Northants area

 

Click Here

 

to find out more
Delivered with care, we only use trusted delivery partners,

 

Get in touch

 

to find out more
Free 30 day insurance
No quibble returns policy
We are rated

 

Excellent

 

on Trustpilot
Giving you More
0% Interest free finance available,

 

Click Here

 

to find out more
Gift wrap available 

Free UK Delivery available on all orders over £150

Have a question? Check our FAQ's
Prefer to speak to a person?
Our experienced Gallery team are available to answer your questions and help you find exactly what you are looking for. To Get in touch you can call us on 01604 713743, email info@therosegallery.co.uk
Medium

Signed Limited Edition Giclee Print

Sizing

Artwork size 59cm by 59cm

Mounted size 81cm by 83cm

Please note all sizes are approximate

Edition Size

150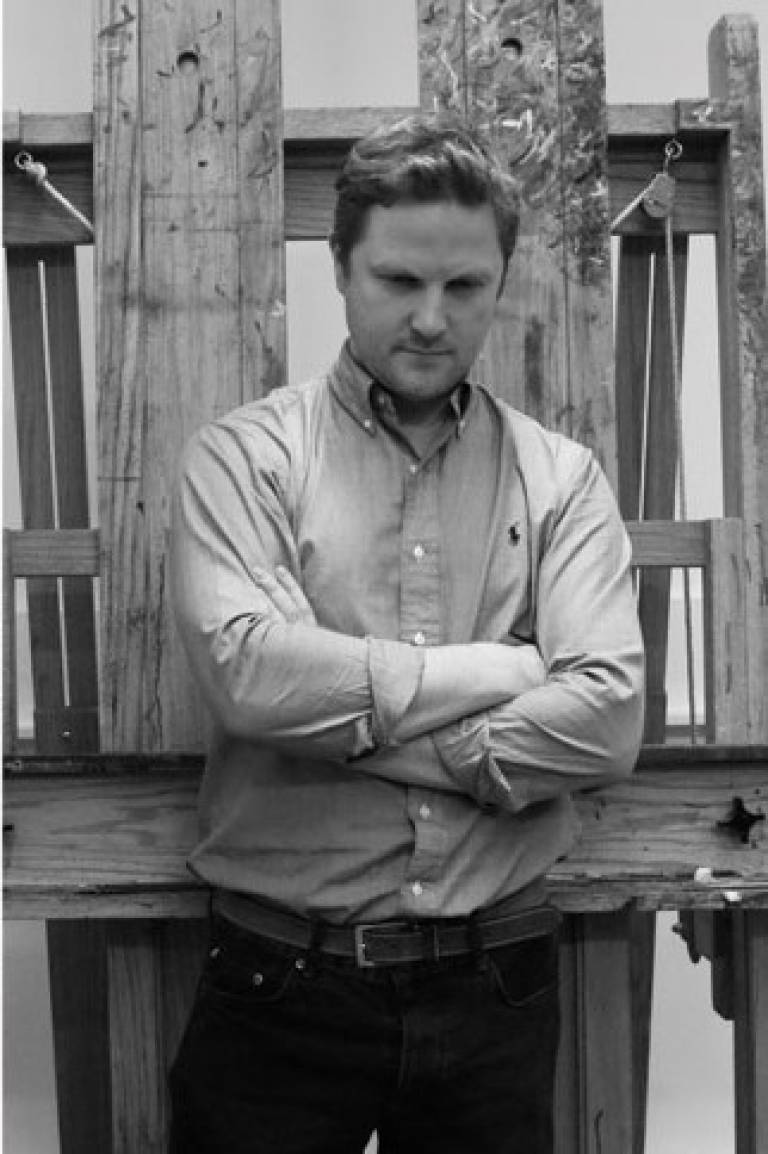 Iain Faulkner is a British figurative painter, born and raised in Glasgow.
His style of painting is hyper-realistic. He eschews the concepts of contemporary art, preferring the more demanding style of figurative art. He uses techniques of draughtsmanship to ensure his paintings are spaced realistically, and can be judged as such.
Iain's art consists mainly of strong, powerful images. They're designed for impact, without the need to rely on narrative. His characters portray a stillness and introspection. He uses the technique of chiaroscuro, to play with light and shadows, emphasising those contemplative, melancholy moments.
Iain Faulkner paints almost exclusively male characters, confident and well-dressed. However, he explores the male psyche with his work, what goes on behind the facade. Vintage cars and whiskeys often add to the atmosphere.
As well as paintings, Iain also creates charcoal drawings, where his draughtsmanship skills come back into play, controlling the tone and emphasis of an entire piece with one colour.
Iain was commissioned to paint portraits for the 2010 European Ryder Cup team. He has exhibited to ecstatic reviews in London and New York.
His strictly limited edition prints are signed, mounted and certified as authentic.
| | UK | Europe inc NI | North America | Rest of the World |
| --- | --- | --- | --- | --- |
| Orders below £150 | £8.95 | £24.95 | £38.95 | £49.95 |
| Orders between £150 & £650 | Free of charge | £42.95 | £54.95 | £84.95 |
| Orders between £650 & £1,500 | Free of charge | £89.95 | £114.95 | £135.95 |
| Orders over £1,500 | Free of charge | By separate arrangement | By separate arrangement | By separate arrangement |
The majority of UK orders placed on the website or over the phone are despatched using a next day courier service within seven days of receipt of order. (Not including bespoke orders such as framing). If you would prefer to place your order by telephone please call us on 01604 713743 and we will be happy to help.
In the unlikely event that we are not able to fulfil your order within seven days we will contact you to confirm a lead time on receipt of your order.
Click here for more information regarding delivery.