Into the Deep
$1,568.00
Check your eligibility
Fast check - won't affect your credit rating.
Artwork Information
Into the Deep is a Hand Embellished Mixed Media edition by Nick Oneill
Available Framed or as unframed circular artwork (ready for framing)

Artwork size 20 inches circular approximately
Framed size 25 inches by 25 inches approximately
Certificate of Authenticity included 
Buy with Confidence
Home consultations are available within Northants area

 

Click Here

 

to find out more
Delivered with care, we only use trusted delivery partners,

 

Get in touch

 

to find out more
Free 30 day insurance
No quibble returns policy
We are rated

 

Excellent

 

on Trustpilot
Giving you More
0% Interest free finance available,

 

Click Here

 

to find out more
Gift wrap available 

Free UK Delivery available on all orders over £150

Have a question? Check our FAQ's
Prefer to speak to a person?
Our experienced Gallery team are available to answer your questions and help you find exactly what you are looking for. To Get in touch you can call us on 01604 713743, email info@therosegallery.co.uk
Medium

Hand Embellished Mixed Media Limited Edition

Sizing

Artwork size 20 by 20 inches

Framed size 25 by 25 inches

Please not all sizes are approximate

Edition Size

95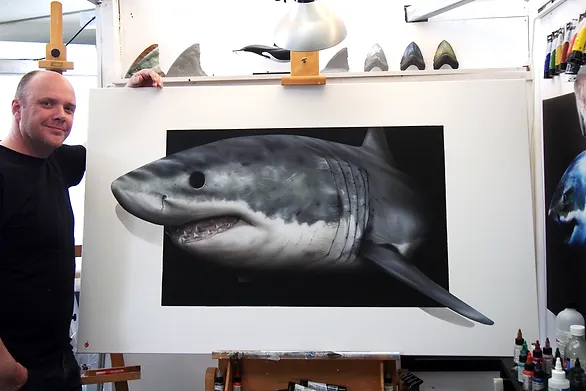 Nick Oniell is an award-winning British artist and scuba diver whose mesmerising portrayals of marine life sparkle like the oceans they represent. Driven by his passion for wildlife and his personal commitment to conservation he wants people to "see the beauty that exists in nature in the hope it will inspire them to protect it."
Although he paints many different species, his favourite subject is sharks as they represent a significant personal journey for him from childhood fear to knowledge and understanding as an adult. He deliberately shows them in a non-aggressive light to highlight their strength, grace and beauty, and in 2016 his shark painting Strength won the David Shepherd Wildlife Foundation Into the Blue category.
A combination of life experience and artistic gifts has led Nick to develop a unique style of painting to best portray the light and life of the underwater world. Before becoming a professional wildlife artist, he enjoyed a successful career in the motorsport industry as a custom painter, and he still employs the skills and even some of the materials he used at that time, alongside more traditional painting techniques. Although best known for his signature black backgrounds, over the last few years he has been experimenting with tinted resins, covering the canvas completely to recreate the effect of the ocean's surface. This pioneering technique adds a stunning reflective quality to the work which he sometimes highlights with both base and precious metal leaf.
| | UK | Europe inc NI | North America | Rest of the World |
| --- | --- | --- | --- | --- |
| Orders below £150 | £8.95 | £24.95 | £38.95 | £49.95 |
| Orders between £150 & £650 | Free of charge | £42.95 | £54.95 | £84.95 |
| Orders between £650 & £1,500 | Free of charge | £89.95 | £114.95 | £135.95 |
| Orders over £1,500 | Free of charge | By separate arrangement | By separate arrangement | By separate arrangement |
The majority of UK orders placed on the website or over the phone are despatched using a next day courier service within seven days of receipt of order. (Not including bespoke orders such as framing). If you would prefer to place your order by telephone please call us on 01604 713743 and we will be happy to help.
In the unlikely event that we are not able to fulfil your order within seven days we will contact you to confirm a lead time on receipt of your order.
Click here for more information regarding delivery.