Kaleidoscope
$774.00
Check your eligibility
Fast check - won't affect your credit rating.
Kaleidoscope by artist Tim Fowler is a colourful depiction of a tropical plant in a naive style. Tim Fowler uses a lively and eclectic style, combined with his vivid use of colour to create the stunning botanical and experimental works. With a signature palette of vivid hues, his work is recognisable and is a strong investment choice for collectors.
Artwork Information
Embellished Paper Limited Edition

Complete with Certificate of Authenticity



Artwork size 25 by 34 inches
Mounted size 31 by 40 inches
Highly collectable edition size of 95
FREE Tim Fowler Limited Edition Artwork worth £250*
*Tim Fowler Limited Edition gift applicable on orders for artwork by the artist Tim Fowler. The offer is applicable on orders placed for delivery within the UK only, exclusions may apply. This offer is available on orders where the print has been automatically added to your basket prior to the order being placed before 31/12/2023 and is subject to change.
Buy with Confidence
Home consultations are available within Northants area

 

Click Here

 

to find out more
Delivered with care, we only use trusted delivery partners,

 

Get in touch

 

to find out more
Free 30 day insurance
No quibble returns policy
We are rated

 

Excellent

 

on Trustpilot
Giving you More
0% Interest free finance available,

 

Click Here

 

to find out more
Gift wrap available 

Free UK Delivery available on all orders over £150

Have a question? Check our FAQ's
Prefer to speak to a person?
Our experienced Gallery team are available to answer your questions and help you find exactly what you are looking for. To Get in touch you can call us on 01604 713743, email info@therosegallery.co.uk
Medium

Embellished Paper Edition

Sizing

Artwork size 25 by 34 inches

Mounted size 31 by 40 inches

Please note all sizes are approximate

Edition Size

95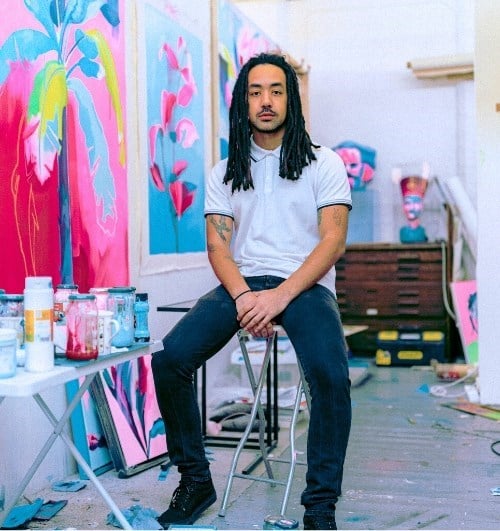 Tim Fowler's dynamic, large scale semi-abstract works and smaller studies explore the power of texture and tone to communicate ideas and emotions. After deconstructing his subject he rebuilds it piece by piece in a signature palette of vivid hues, experimenting with opacity, textural juxtapositions, finishes and light. While he references nature and humanity, he leaves ample space for ambiguity on every canvas and invites the viewer to complete the work with their own creative response.
Using found and made images as a starting point Tim builds layers of pigment, adding abstract fragments, bold marks, broken lines and liberal strokes to create contours and features. He works intuitively, combining oil, acrylic, spray, enamel and graffiti inks. Each composition is a physically demanding event which can occasionally require scaffolding and some unexpected tools, from broad brushes to long handled marker paint mops, to effect purposeful marks, strokes, drips, scrapes and smears across the canvas
Tim's interest in botanical subjects was kindled when a fellow artist brought some banana plants into a studio to overwinter. He became fascinated by these spectacular tropical plants and started to introduce elements of their shape and energy into a series of abstracts he was working on. After being awarded Arts Council England funding to research links between plantation and cash crops and his own Caribbean heritage, Tim was offered a residency at the ground-breaking company Touchlight Genetics. Here he was able to interact with scientists in a lab setting to explore his newfound passion, and Kew Gardens and the Eden Project also provided him with inspiration and opportunities.
| | UK | Europe inc NI | North America | Rest of the World |
| --- | --- | --- | --- | --- |
| Orders below £150 | £8.95 | £24.95 | £38.95 | £49.95 |
| Orders between £150 & £650 | Free of charge | £42.95 | £54.95 | £84.95 |
| Orders between £650 & £1,500 | Free of charge | £89.95 | £114.95 | £135.95 |
| Orders over £1,500 | Free of charge | By separate arrangement | By separate arrangement | By separate arrangement |
The majority of UK orders placed on the website or over the phone are despatched using a next day courier service within seven days of receipt of order. (Not including bespoke orders such as framing). If you would prefer to place your order by telephone please call us on 01604 713743 and we will be happy to help.
In the unlikely event that we are not able to fulfil your order within seven days we will contact you to confirm a lead time on receipt of your order.
Click here for more information regarding delivery.