Kingfishers - The Lost Words
$511.00
Check your eligibility
Fast check - won't affect your credit rating.
Low in Stock - Last Chance to own this Artwork
Kingfishers by Jackie Morris and Robert Macfarlane captures a kingfisher successfully hunting in a river, with a group of his friends perched next to a willow tree. Part of the The Lost Words collection, a collaboration between the two great artists, the series focuses on beautiful wildlife. This Animal Artwork captures the spirit and personality of the subjects using masterfully drawn, heavily detailed illustrations.

Artwork Information
Limited Edition Print
Complete with Certificate of Authenticity


Limited 

Edition size of 145
Printed on 315gsm 100% cotton rag paper

Artwork size 53cm by 36cm approximately
Artwork mounted size 75.5cm by 63cm approximately
Buy with Confidence
Home consultations are available within Northants area

 

Click Here

 

to find out more
Delivered with care, we only use trusted delivery partners,

 

Get in touch

 

to find out more
Free 30 day insurance
No quibble returns policy
We are rated

 

Excellent

 

on Trustpilot
Giving you More
0% Interest free finance available,

 

Click Here

 

to find out more
Gift wrap available 

Free UK Delivery available on all orders over £150

Have a question? Check our FAQ's
Prefer to speak to a person?
Our experienced Gallery team are available to answer your questions and help you find exactly what you are looking for. To Get in touch you can call us on 01604 713743, email info@therosegallery.co.uk
Medium

Giclée Limited Edition

Sizing

Image size 53cm by 36cm (approx 11" x 15")

Mounted size 75.5cm x 63cm (approx 20" x 25.5")

Please note all sizes are approximate.




Edition Size

145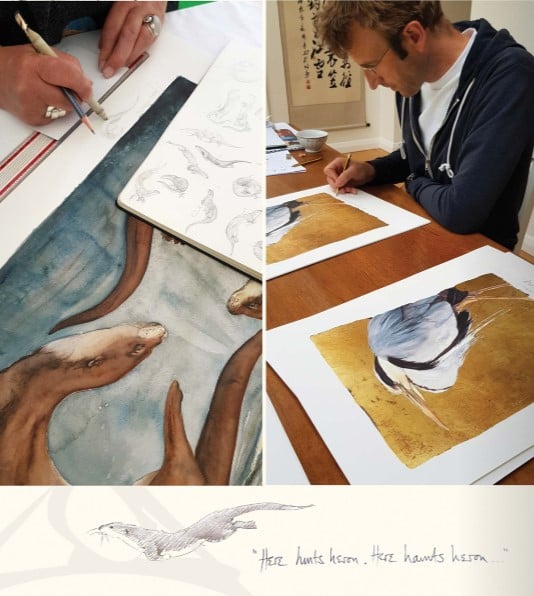 'Robert Macfarlane and Jackie Morris have made a thing of astonishing beauty' Observer "Once upon a time, words began to vanish from the language of children. They disappeared so quietly that at first almost no one noticed - fading away like water on stone. The words were those that children used to name the natural world around them: acorn, adder, bluebell, bramble, conker... gone! Fern, heather, kingfisher, otter, raven, willow, wren - all of them gone! The words were be-coming lost..." The Lost Words is a spell book that seeks to conjure the near-lost magic, beauty and strangeness of the nature that surrounds us, for readers both young and old. Taking the form of twenty 'lost' words, collected alphabetically from 'Acorn' to 'Wren' each word becomes a spell - written by Robert Macfarlane, which is intended to be read aloud. The images - painted by Jackie Morris, capture first the absence of the plant or creature within its habitat and then its return. The spell summons the image and the word back into being, making this a book of enchantment in more than one sense. The virtual world is moving decisively to the centre of modern childhood experience. A research paper by Cambridge University conservationists found that 8- to 11- year-old school children were 'substantially better' at identifying common Pokemon characters than common species of British wildlife. This is not surprising when a 2016 survey showed that three-quarters of British children spend less time outdoors than prisoners do. And while children's knowledge and experience of nature is being lost, we're also undergoing a drastic decline of species and habitat in the UK. 53% of species in the UK are in decline, but 52% of the British public are unaware of it. It is this situation Robert Macfarlane and Jackie Morris seek to address with their unique book, bringing back an experience of nature as astonishing, strange, beautiful, eerie, and magical.
| | UK | Europe inc NI | North America | Rest of the World |
| --- | --- | --- | --- | --- |
| Orders below £150 | £8.95 | £24.95 | £38.95 | £49.95 |
| Orders between £150 & £650 | Free of charge | £42.95 | £54.95 | £84.95 |
| Orders between £650 & £1,500 | Free of charge | £89.95 | £114.95 | £135.95 |
| Orders over £1,500 | Free of charge | By separate arrangement | By separate arrangement | By separate arrangement |
The majority of UK orders placed on the website or over the phone are despatched using a next day courier service within seven days of receipt of order. (Not including bespoke orders such as framing). If you would prefer to place your order by telephone please call us on 01604 713743 and we will be happy to help.
In the unlikely event that we are not able to fulfil your order within seven days we will contact you to confirm a lead time on receipt of your order.
Click here for more information regarding delivery.